How to link your Payoneer with TR Wallet
Reference Registered Teacher Record account: Jo@teacherrecord.com
Click "Withdrawal" button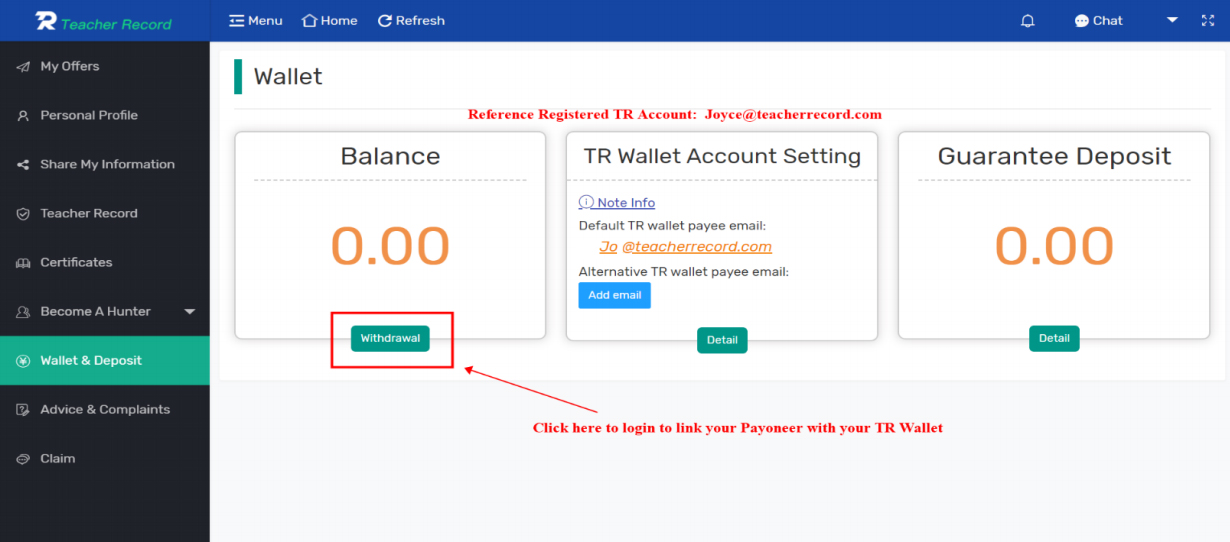 Click "Login Payoneer&Link Teacher Record"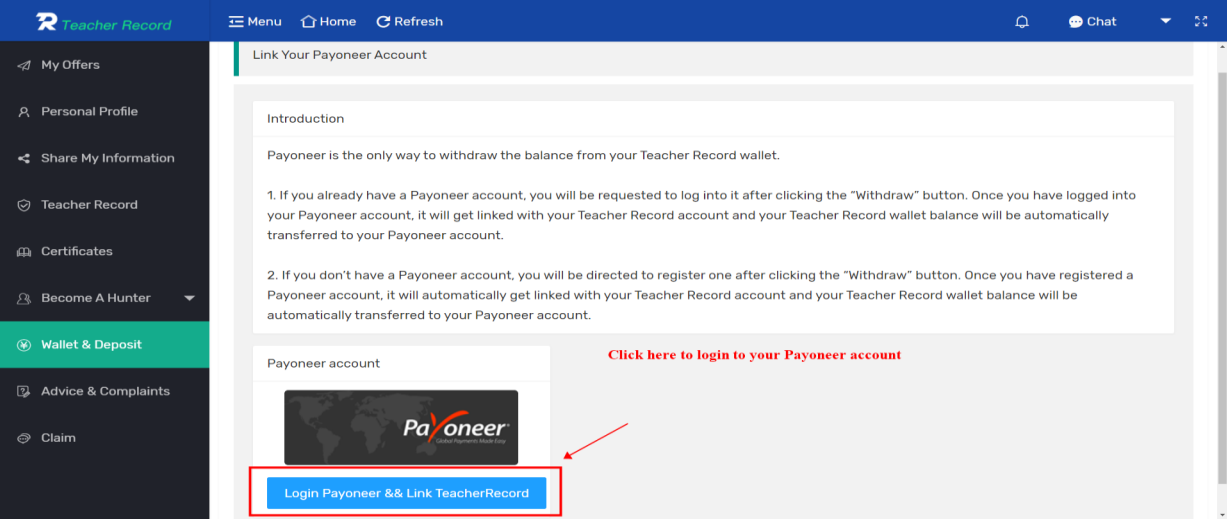 3.What if your linked Payoneer account is not Jo@teacherrecord.com
but ax@teacherrecord.com ?
Click "Add email" button to add ax@teacherrecord.com as the Alternative TR Wallet
payee email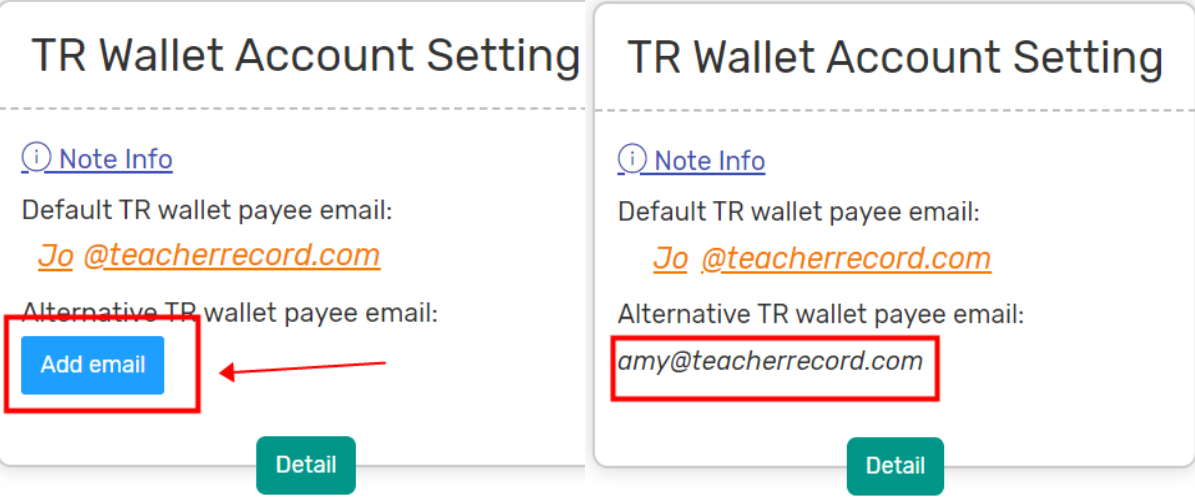 In this case,you will receive payment info via ax@teacherrecord.com and also the
payment will be sent to ax@teacherrecord.com Payoneer account
4. How to confirm if your Payoneer is successfully linked with your TeacherRecord Wallet?

Click "Withdrawal",if you still can see the "Link Your Payoneer Account"Page, then you
haven't linked your Payoneer with Your Teacher Record Wallet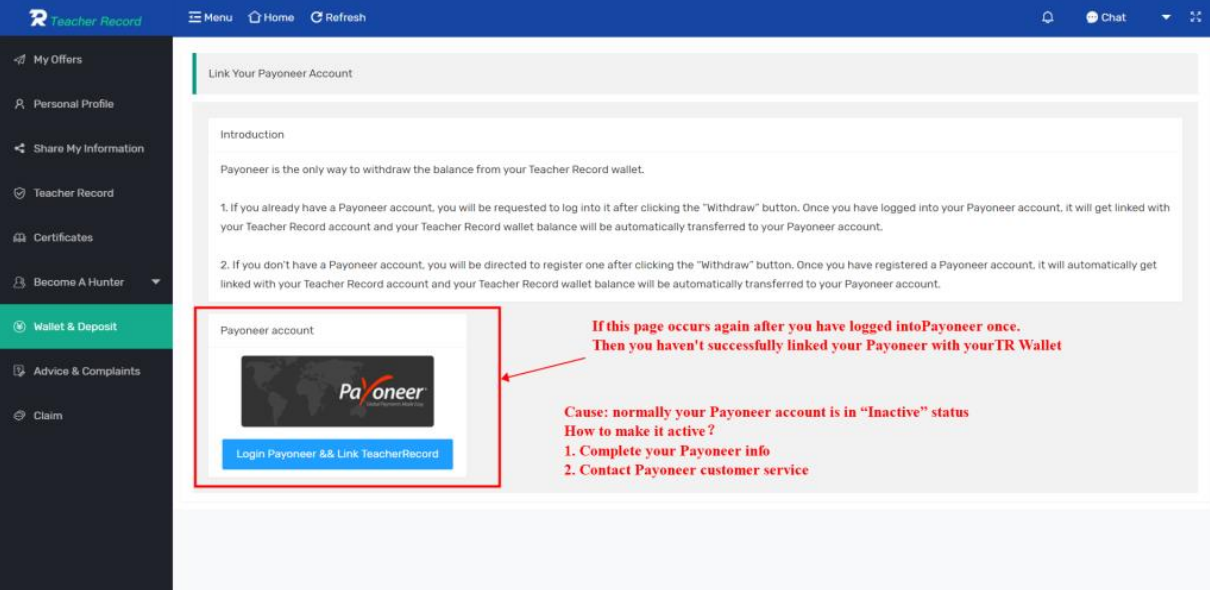 What if you can't link your Payoneer with your Teacher Record Wallet
If you can't link them, then your Payoneer must be in "Inactive" Status

The main reason for inactive Payoneer account is due to incomplete Payoneer info. So you need complete necessary Payoneer info.

Ask Payoneer Customer Service for help.
Payoneer Customer Service
Toll Free US Telephone: 1-800-251-2521
UK: +44-203-608-0610
Australia: +61-28-379-8090
International: 1-646-658-3695
Live Chat: payoneer.custhelp.com/app/chat/chat_launch
Web Form: payoneer.custhelp.com/app/ask/
E-mail: customerservicemanager@payoneer.com
Maybe you can try make phone call request for your complaint which should help you get instant response
About salary in Payoneer account
Firstly, after you withdraw the money on Teacher Record website, the Amount will be received in your Payoneer account after being reviewed by TR. Normally it will be approved after 1 to 2 working days. You can see your status in Teacher Record Wallet is status 2: pending.

Secondly, after Teacher Record approved, normally teacher can receive it within several hours or 1 working day. If it still doesn't show in your Payoneer account, pls check with Payoneer service if there is any other problem. You can see your status in Teacher Record Wallet is status 3: payment completed.
The school uses our payment service to pay the teacher. Once they submit it on the system you will be able to see the balance amount in your " Wallet & Deposit" on the Teacher Record website. And you can directly withdraw it to your account after link it to Teacher Record from the " Wallet & Deposit" board. Sot it depends on when they submit. If it is not in your wallet that means they haven't deposited your salary yet to your teacher record account. Normally they pay once a month for previous months job done. Pls directly check with the school if you have any problem about the payment date and the salary amount.
And Teacher Record does not charge any fee from the teacher. You can check with Payoneer service if they charge any fee after you withdraw the money to your account.
As a job board, we don't involve any pay and behavior from the company, we simply provide a payment tool for companies like dada etc. We do not take any of percentage from your payment.
作者:admin  创建时间:2021-08-26 13:37
最后编辑:admin  更新时间:2021-10-18 09:36